To support authors and creators throughout North America, we have compiled a list of writers' conferences and book festivals below and will update this list frequently. Subscribe to this calendar below to receive notifications of new events. Also, tell us about any conferences or festivals by posting the info in the comments below or emailing books at jozefpa dot com.
Feb
14
Sat
2015
Mystery Writers of America

@ The Hyatt Regency
An entire day of all-new, advanced classes for those who've attended MWA-U 1.0 and for those ready for a bigger challenge. Bring samples of your own writing for critique sessions with our instructors.
May
1
Wed
2019
Omnidawn Poetry Chapbook Contest
The winner Omnidawn'sPoetry Chapbook Contest wins an immediate cash prize of $1,000, publication of the book by Omnidawn with a full-color cover (unless the author prefers black and white), 100 free copies of the winning book, and extensive display advertising and publicity.
This contest is open to all writers worldwide with no limitations on the amount of poetry a writer has published. Omnidawn recommends submissions of 20–40 pages of poetry, not including front and back matter. Keep in mind that this is intended to fit in a 5.5 x 7 inch published chapbook of approximately 60 pages or less, although you can submit on standard 8.5 x 11 inch pages, and we will format to fit the smaller size.
Colleagues, students, and close friends of the judge, Tongo Eisen-Martin, are not eligible.
None of the poems in the winning chapbook may be published in another published book for at least one year after Omnidawn publishes the winning chapbook. Online entries must be received and postal entries must be postmarked between May 1 and June 24, 2019 at midnight Pacific Standard Time. Reading fee is $18.
To submit: http://omnidawn.com/contest/poetry-contests.htm
Oct
1
Tue
2019
14th Annual Writer's Digest Poetry Awards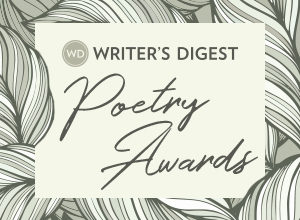 The winning poem will be published in Writer's Digest magazine's July/August 2020 issue and to a worldwide readership on WritersDigest.com. The first place winner will also receive a 20-minute consultation with Poet's Market editor Robert Brewer and a copy of the 2020 Poet's Market. Twenty-five winners will be selected with varied awards.
Enter any poem 32 lines or less for your chance to win $1,000 cash award.
Contest date: October 1, 2019
To submit: https://app.wizehive.com/apps/WDpoetry2019